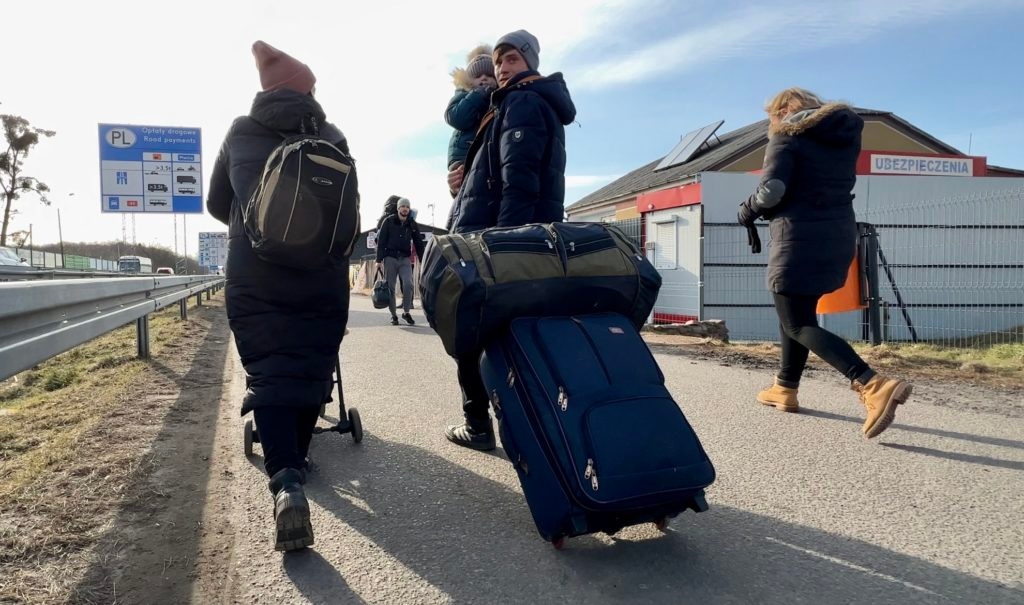 As the shared compassion ministry of the International Mission Board (IMB) and the North American Mission Board (NAMB), Send Relief is working through a vast network of IMB missionaries, field partners and local churches to care for Ukrainian refugees across Eastern Europe. The IMB's long-term relationships in Ukraine have aided Send Relief efforts to quickly mobilize on-the-ground support and resources.
Thanks to the ongoing generosity of Southern Baptists, partners are providing food, shelter, transportation, clothing, medical supplies, trauma care and other essentials to more than 416,000 people displaced by the war. Send Relief compassion ministry efforts began before the Russian invasion into Ukraine, and they will continue because of the faithfulness of Southern Baptists. Gifts given to Ukraine refugee ministries through Send Relief and the IMB now stand at more than $5.5 million.
Cade and Ginny Wheeler help lead international Send Relief efforts.
"We are working to help our IMB personnel in Europe utilize the humanitarian gifts to Send Relief to strengthen the work of the local churches as they reach out and care for needs, share hope as they meet the acute needs of the hurting and look to long-term community development," Ginny said.
Designated Send Relief funds are being utilized to provide for these needs and minister in multiple countries where IMB personnel and national partners are ministering to Ukrainian refugees. These countries include Ukraine, Moldova, Poland, Latvia, Lithuania, Estonia, Slovenia, Romania, Germany, Italy, Hungary, Czech Republic, Bulgaria and North Macedonia. Send Relief currently has at least 30 compassion ministry projects spread across Europe.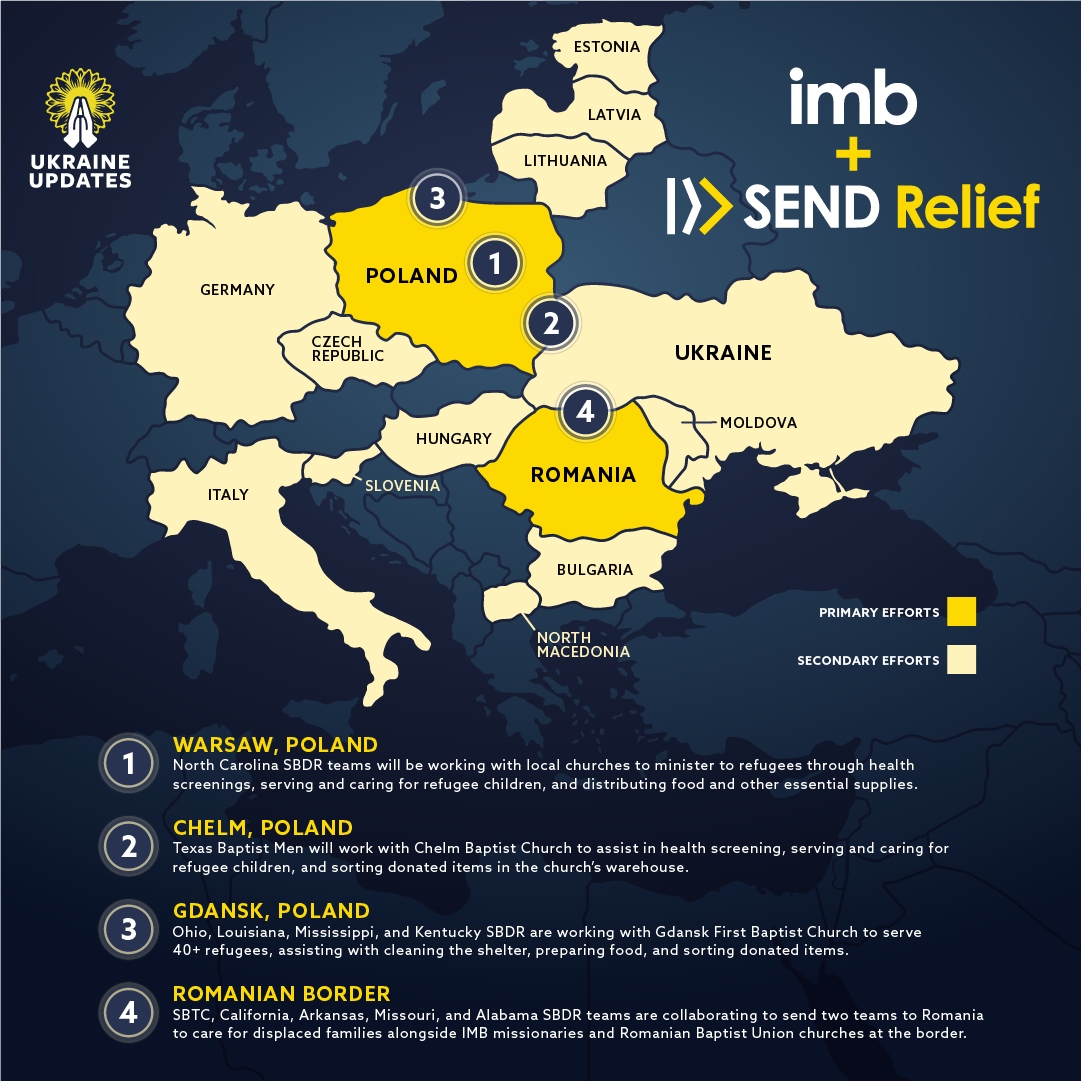 Looking for the gaps
Local Christians have been vital partners and are leading the way in reaching out to refugees.
"We're encouraging our workers as they're doing Send Relief projects, and as they're responding, to ask themselves, 'Where are the places where there might be a gap in the care, and how can we fill those gaps? Are there people who are not getting their needs met?'" Ginny said.
"Our workers on the field are finding those places," Ginny continued. "Our workers immediately are thinking, 'How can we meet their physical needs and meet their spiritual needs at the same time?'"
IMB missionaries assessed the situation on the border of Romania and Ukraine and determined they could come alongside Romanian Baptists who had already mobilized to provide care.
Southern Baptist volunteer teams from Texas are joining Romanian Christians. The teams hope to set up care stations. In existing stations, Christians are forming meaningful connections and providing information as to where the refugees can shelter and connect with local churches.
Utilizing corridors
In addition to assisting refugees who've left Ukraine, Send Relief funds are helping internally displaced Ukrainians. Thousands of Ukrainian Christians remain in the country and are ministering to their countrymen.
"One of our workers wrote me and said there were 20 people on dialysis in eastern Ukraine who were going to die if we could not get them out," Ginny said. The Wheelers used Send Relief funds to provide gasoline for those patients to evacuate to Romania where they connected with local Christians.
"We just thank God for the ability to save the lives of those 20 people who had no other way," Ginny said. "Hopefully, they're going to have meaningful connections there in Romania. Those are concrete lives, souls' needs being met, provided for, right now – today. Every one of them, they matter."
Investing relationally
"We're really focused also on creating and utilizing corridors for sending aid into Ukraine with those trusted partnerships with our national churches and with the Baptist seminaries," Ginny said.
The investment of Southern Baptists in Ukraine has a long history and is well-established. Aid is going through Odesa and Lviv, two cities that are home to Baptist seminaries the IMB has partnered with for many years. People are lining up outside seminaries and churches to receive aid.
Some Southern Baptist state conventions, such as the North Carolina Baptist Convention, have long-standing relationships in Ukraine.
The Baptist state conventions of North Carolina, Mississippi, Southern Baptists of Texas Convention, Texas Baptist Men, California, Kentucky, Arkansas, Louisiana, Alabama, Missouri and Ohio are sending teams of Disaster Relief volunteers to serve in Poland and Romania. Individuals and churches are also involved.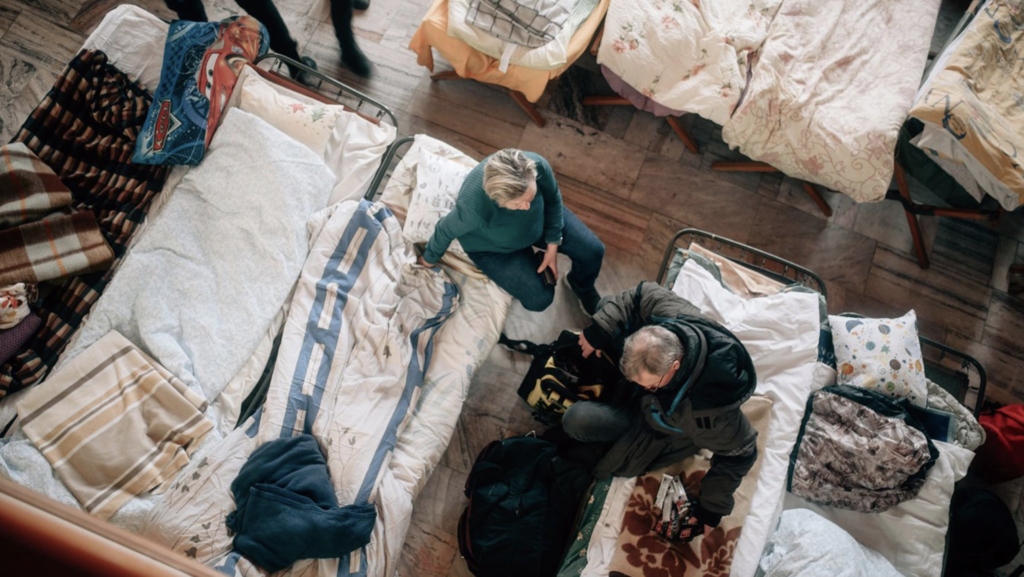 Teams will assist with cooking, distributing food, cleaning, caring for children, providing health screening and sorting donations.
"We're just so thankful for those Southern Baptist state conventions that are involved and have spent years already ministering inside Ukraine, inside Romania, inside Poland, and now, also together we are doing this crisis response," Ginny said.
Providing long-term aid
Ginny said IMB missionaries and local partners will continue to provide relief when the war is over.
"How much more is going to have to be done," Ginny asked, "to put these people's lives back together, to assist the churches within Ukraine and even around Europe, as they try to help these people who have no homes, who have no jobs, who have no infrastructure in Ukraine?
"It is no small thing to think of what that's going to take, and we want to be able to do that," Ginny continued. "We want to walk alongside them, so that the church can be the ones to be caring for people to meet their tangible needs and to build up the national churches. All the giving, it goes toward that. We share the hope of Jesus, and we meet those needs."
One hundred percent of your gifts to Send Relief's Ukraine Crisis Fund support ministry to Ukrainian refugees.
"We're so thankful for the response and for the prayers and for the support, the giving," Ginny said. "Our workers are just so quickly able to have resources to respond to the need because of Southern Baptists' giving to Send Relief and to the IMB."