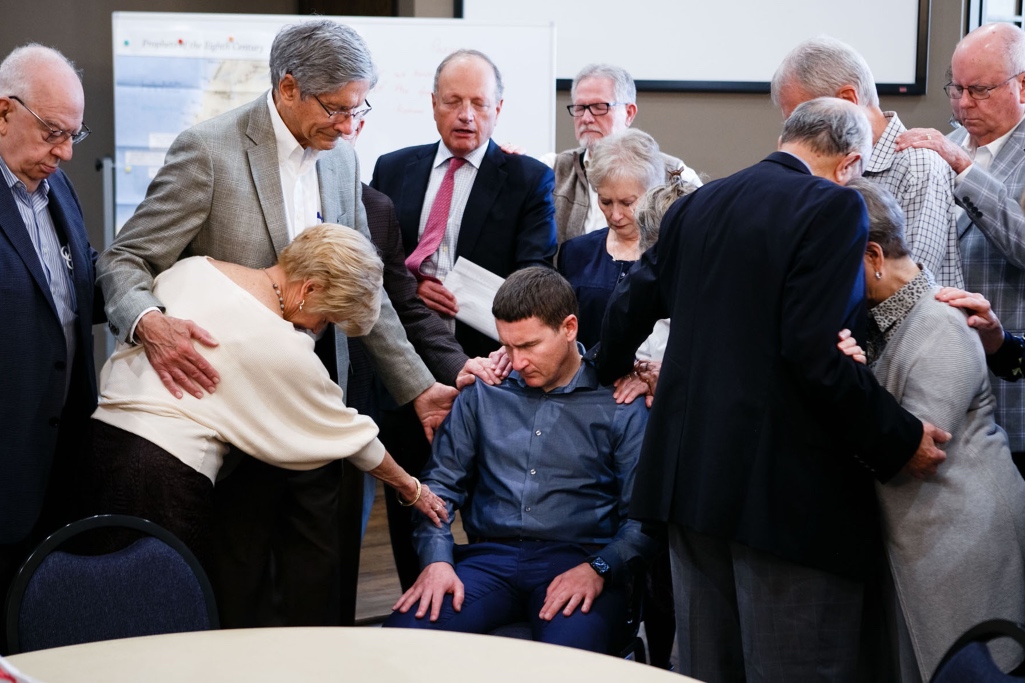 LVIV, Ukraine (BP) – Russian missiles that have fallen closest to Ukrainian Baptist Theological Seminary (UBTS) President Yaroslav "Slavik" Pyzh's home destroyed an electrical substation in Lviv as Russia revamps its war on Ukraine.
"What they're doing for winter, they're trying to freeze people," Pyzh, also a pastor and Southwestern Baptist Theological Seminary graduate, told Baptist Press as Ukraine enters its coldest months of the year in the midst of war.
Pyzh describes Russia's tactic, coupled with the nearly 7,000 civilian war deaths to date, as genocide.
"They're purposefully destroying Ukrainians because they are Ukrainians," Pyzh said. "That's genocide, big time."
Many national leaders globally, including U.S. President Joe Biden, have accused Russia of genocide in its latest war on Ukraine. The United Nations General Assembly adopted a resolution Nov. 14 calling for Russia to pay war reparations to Ukraine as compensation for loss, damage and injury, and to establish a registry to document evidence and claims for compensation.
But the UN has not officially charged Russia with meeting the requirements of genocide as it is defined in international law.
Pyzh points to mass graves found in such cities as Bucha and Kharhiv after Ukrainian troops retook the territory from Russia.
Since Feb. 24, Russia has killed at least 6,557 people and injured at least 10,704 in Ukraine, including 6,149 men and women, and 408 boys and girls, the United Nations High Commissioner for Human Rights reported in its Nov. 15 civilian casualty update. Millions have fled Ukraine.
"They were just killing people for being Ukrainians," Pyzh said, pointing out Russia denies Ukrainians' existence. "And they do not believe that Ukraine exists, and they do not believe that Ukrainians exist. Officially they've said it many times, there is no such nation as Ukraine. It's all Russia."
In one of its most intense missile strikes of the war, Russia spewed 85 missiles over urban areas including Lviv in a span of two hours Nov. 15, NPR reported, targeting energy infrastructure and leaving millions without power. Reports included a missile strike that killed two on a farm in Poland bordering Lviv.
With winter approaching, temperatures in Ukraine are already dipping into the teens. As recently as last month, Russia had already destroyed 30 percent of Ukraine's electrical power grid, Ukrainian President Volodymyr Zelensky said. Millions of Ukrainians will lack heat this winter.
"Millions of Ukrainians uprooted from their homes by the current war are facing winter in displacement or are living in damaged homes or in buildings ill-suited to protect them from the biting cold, with disrupted energy, heating and water supplies and lost livelihoods," UNHCR spokesperson Olga Sarrado said in a Nov. 11 press briefing.
UBTS is responding to the crisis through six humanitarian We Care Centers where UBTS students and graduates are among volunteers, Pyzh told Baptist Press during a recent trip to the U.S. The seminary is working to get power generators to establish warming stations and phone charging sites.
"The big challenge, immediate challenge, is to go through the winter," Pyzh said, "because you don't have electricity, you don't have heating, you don't have water, you don't have anything."
We Care Centers are working to winterize homes that are too damaged to provide adequate shelter, restoring roofs, windows and doors. An additional seven centers are planned to be operational by January, UBTS reported.
UBTS, which resumed classes after spending the first months of the war as a humanitarian aid shelter, is renovating a garage into a bomb shelter, expanding bomb shelter capacity there. Student enrollment is 2,000, Pyzh said, with most students attending classes onsite and living in Lviv. Dormitory space comfortably holds 70 students, he said, but they are filled beyond capacity.
"Sometimes we spend more time in bomb shelter than anywhere else," Pyzh told Baptist Press. "It's an underground garage, but we're using it as a bomb shelter, because you cannot operate if you don't have enough room for students in the bomb shelter.
"We do have a lot of air raid sirens now. After Oct. 10, we've been under attack quite often."
Southern Baptist Send Relief, individual churches and other groups have sent donations to UBTS in support of humanitarian aid since the war began.
"Thank you for praying for us and helping us," Pyzh has said. "Pray for God's miracle, because it will take God's miracle to stop the war."
(EDITOR'S NOTE – Diana Chandler is Baptist Press' senior writer.)