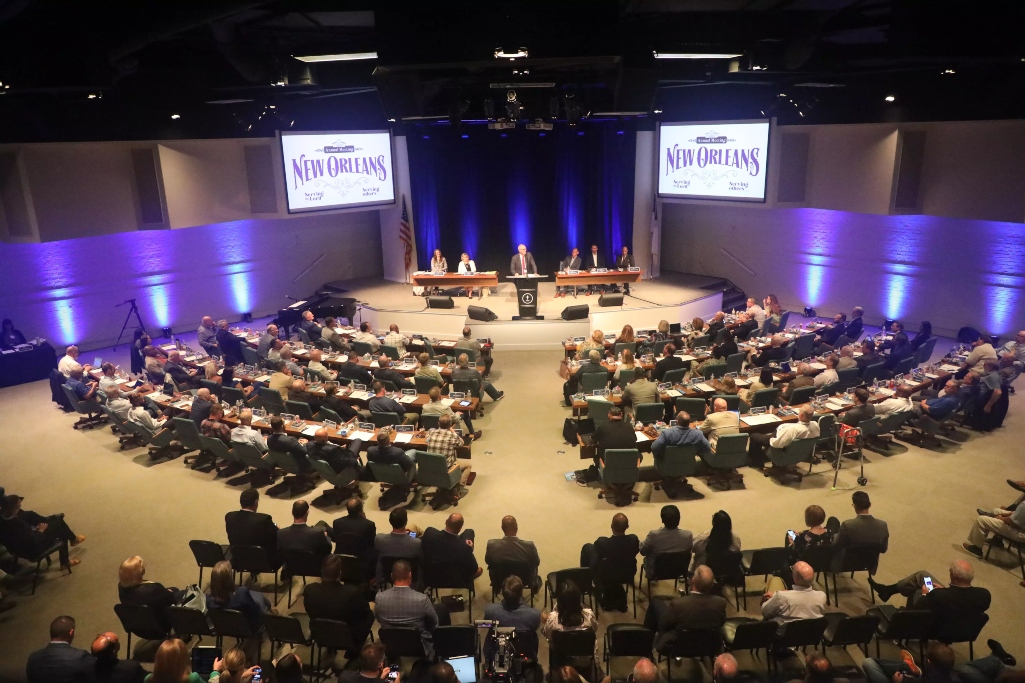 Southern Baptist leaders urged Southern Baptist Convention (SBC) Executive Committee (EC) members not to lose sight of the goal of cooperation despite the challenges they face. Cooperation was front-and-center during the two-day meeting through displays of generous, sacrificial giving, a move to give SBC messengers greater clarity in their resolutions, reports of increased ethnic diversity in the SBC and calls for a renewed focus on caring for the vulnerable and maintaining good relationships.
Presidential addresses focus on unity
In his plenary address Sept. 19 SBC President Bart Barber likened the juxtaposition of New Testament books 2 John and 3 John to the tension felt by many Southern Baptists. The former book, he said, is a warning to be on guard against false teachers, while the latter is an encouragement to cooperate and fellowship with other believers as much as possible.
"I found the Southern Baptist Convention in the Bible," he said. "We live in this crack here of the pages between 2 John and 3 John. …
"So here's my mission for me. I want to watch my own heart, my own actions, my own tongue," Barber said. "I want to be on guard against the moments when I dance over so far into 2 John, that I've left 3 John all the way behind. And I want to guard my heart against those times when I've wrapped myself up in 3 John so much that I've completely wandered away from 2 John."
SBC EC Interim President and CEO Willie McLaurin also touched on the importance of maintaining good relationships with other believers in his address to EC members.
"Tonight, I'm simply calling on every Southern Baptist to lay down your swords and make sure that your relationships with one another are honoring unto the Lord Jesus Christ," he said. "We do this through four things: love one another, forgive one other, serve one another and pray for one another."
EC staff reports focus on diversity
In a plenary session Sept. 20, EC members heard brief updates from the EC Vice President for Communications and as well as four associate vice presidents and the interim CFO.
Charles Grant, associate vice president of African American relations and mobilization at the EC, noted that the SBC is now 22.3% racially and ethnically diverse, and even during the pandemic, 62% of new Southern Baptist church plants were racially and ethnically diverse.
Luis Lopez, associate vice president of Hispanic relations and mobilization at the EC, said God is moving in a special way among the more than 3,200 Hispanic congregations across the SBC, "saving, baptizing, training and sending Hispanic leaders."
Peter Yanes, associate vice president of Asian American relations and mobilization, said more than 2,000 Asian churches across the convention represent about 30 Asian nationalities with their own subgroups of culture, language and immigration history.
Brandon Porter, the EC's associate vice president of convention news, reported that a Baptist Press-produced daily radio program is now heard on 150 radio stations nationwide.
Porter also told trustees that Baptist Press staff hold closely to the guidelines set forth by SBC messengers. "We are not an independent nonprofit," he said. "We function at the commission of the Southern Baptist Convention, and that stays front-of-mind for us."
Porter also highlighted the recent release of the 2022 SBC Annual, available in hard copy or online. The resource is the best way to stay informed of SBC developments throughout the year, he said.
Interim CFO Twila Roberts told trustees she quickly realized that "stewardship is an important and serious business here."
"Each week, the money received from state conventions and individual churches is counted, reports are checked and rechecked, and a strict schedule of prompt distribution to our ministry partners is faithfully maintained," she said.
EC Vice President for Communications Jonathan Howe gave updates about the just-released issue of SBC Life, which addresses the question "What is a pastor?" He also, in his role as convention executive, gave an update on housing and exhibit space for the 2023 SBC annual meeting in New Orleans.
Update to SBC Calendar of Activities
By adopting a recommendation from the EC's Committee on Southern Baptist Relations, the full EC agreed to designate the last Sunday in September "Caring Well Sunday" in the SBC. The day will be set aside to emphasize abuse prevention and awareness as well as the care of survivors. The first Caring Well Sunday on the SBC calendar will be Sept. 24, 2023.
Resolutions bylaw change proposal
Trustees approved a proposal for a bylaw change that would provide more time for Southern Baptists to review the initial Committee on Resolutions report prior to the annual meeting.
Previously, messengers did not see the committee's report until the first day of the annual meeting. The change will provide that report 10 days before the gavel drops to open the gathering. A final report from the Committee on Resolutions would be published in the first day's bulletin. The proposed bylaw change will be presented to messengers at the 2023 SBC annual meeting in New Orleans.
In a separate discussion, the EC's Committee on Convention Missions and Ministry declined to abolish or suspend the Resolutions Committee altogether, agreeing with a study group's finding that the resolutions process serves an "important theological, pedagogical, and functional role for the convention."
Disfellowship of churches
Trustees affirmed recommendations by the Credentials Committee for the disfellowshipping of two churches.
College Park Baptist Church in Greensboro, N.C., practiced "open affirmation, approval and endorsement of homosexual behavior" while Amazing Grace Community Church in Franklinville, N.J., displayed "a lack of cooperation" to address issues alleging "discriminatory behavior," the committee said.
Special offerings
Southern Baptist missions and ministry efforts received a boost of more than $1 million through two checks presented during the meeting.
During the Sept. 19 plenary session, Lifeway Christian Resources President Ben Mandrell presented checks totaling more than $540,000 to the presidents of the International Mission Board ($368,862.11) and the North American Mission Board ($174,438.70).
Then on Tuesday, Southern Baptist Convention of Ohio Executive Director-Treasurer Jeremy Westbrook presented a $500,000 check — part of the proceeds from a recent property sale — to McLaurin. Westbrook said the gift's purpose was to invest in the next generation by investing in the Cooperative Program.
Budget
EC members approved a 2022-23 EC and SBC Operating Budget of $8,335,000, a roughly 3% decrease from last year. The EC also showed a nearly $6 million annual decline in net assets, due largely to costs incurred from the Guidepost Solutions investigation and related legal expenses.